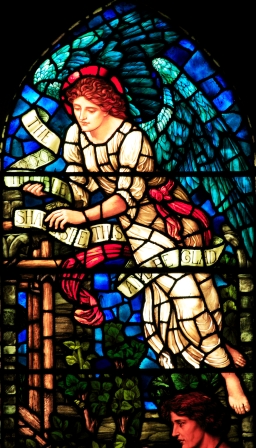 Stained Glass Windows
The Chancel Window by Henry Holiday (1904)
The Chancel window is magnificent. It comprises three lancets depicting the nativity with the centre light showing Mary, Joseph and the Christ Child in the stable. The left light shows the three Kings and the right light shows the shepherds. There are two cherubs at centre base and each light is topped by richly coloured angels. This is the work of Henry Holiday and it is signed and dated at the bottom of the centre light.
They were dedicated in 1904 by Dr JN Harvey Crow, Miss Catherine and Miss Margaret Crow, in memory of their father, David Crow (a well known architect in Glasgow and the West of Scotland); their brother David Reid Crow (an educationalist, administrator and merchant in South Africa, then President of the London Argyllshire Association, while working in London before retiring to Ardrishaig); and their sister Miss Joan Crow, (a former school teacher in Lochgilphead).
This window is of superlative quality, being by one of Britain's foremost stained glass artists of the late Victorian period, and made at a time (1904) when Holiday was a mature and experienced artist, running his own studio in order to have complete control over the execution of his designs.
There has been a resurgence of interest in his work with exhibitions at the Moss Gallery in London and the William Morris Gallery in Walthamstow. As with all of Holiday's work subsequent to forming his own studio, the craftsmanship is also superb. Of particular interest is the extensive use of plating (a double layer of glass) to create exceptionally rich and subtle colour combinations.
The MacKichan Windows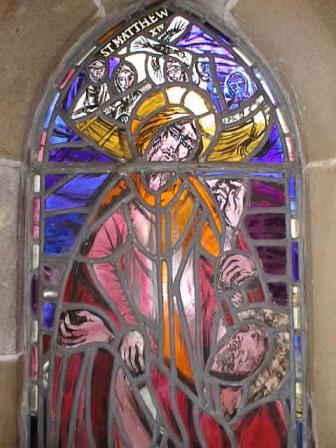 In 1982, a MacKichan Society was formed which commissioned a stained glass window to commemorate the first minister, Peter MacKichan (1804-42) whose early death was as a result of his hard work to establish the church and his nephew Peter Neil MacKichan (1837- 1911) who would later become the sixth minister of Lochgilphead in 1863.

Sax R Shaw of Edinburgh, designed the window, in his loose painterly style, on the themes of Peter walking on the water to Christ (Matthew 14:22-36), and the miraculous catch of fish (Luke 5:10-11). They were unveiled by the Revd. Dr Ian MacKichan of Old Kirkpatrick Parish Church on July 1st, 1984, and dedicated on May 19th 1985.
Saints Matthew and Paul (Signed A Ballantyne and Gardiner Edinburgh)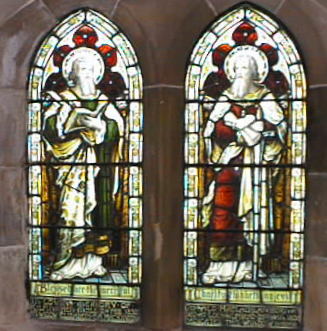 Two simple standing figures in rich robes, the faces finely painted and very typical of this firm's work at this time (1898). The style is very similar to Ballantine and Gardiner windows in St Giles Cathedral, Edinburgh. St Matthew is shown in the act of writing his gospel, and St Paul carries his traditional symbol, a sword.