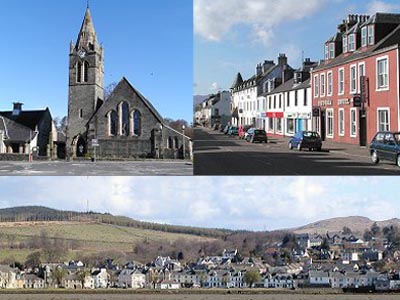 Lochgilphead was a typical 'new town' of the early 19th century with a Parish Church at the head of a wide main street looking down to the shore. These villages were a result of the Highland Clearances, and the herring fishing was an alternative to crofting. The first parish church was built in 1827 as a Parliamentary Church funded by the Government to assist this population movement. This proved inadequate for the growing community, and was replaced in 1885 by the larger present building, complete with clock bell tower. The architect was John Honeyman of Glasgow.
The Church Hall was built in 1911, designed by William Todd, who was in the Charles Rennie MacIntosh school of design. Todd's buildings have a distinctive sweep of roof curves. His promising career was cut short by the First World War. The hall has recently undergone a complete refurbishment and now provides an excellent facility for the use of the church and the local community.
The first minister was Peter MacKichan (1804-42) whose early death was as a result of his hard work to establish the church. His nephew Peter Neil MacKichan (1837- 1911) would later become the sixth minister of Lochgilphead in 1863. In 1982, a MacKichan Society was formed which commissioned a stained glass window in Lochgilphead to commemorate both ministers. Mr Sax R Shaw of Edinburgh, designed the window on the themes of Peter walking on the water to Christ (Matthew 14:22-23), and the miraculous catch of fish (Luke 5:10-11). They were unveiled by the Revd. Dr Ian MacKichan of Old Kirkpatrick Parish Church on July 1st, 1984, and dedicated on May 19th 1985.
Other notable ministers were:
John McFarlane was minister from 1847 till his death in 1859. His fame in church history was as the first resident Christian minister in New Zealand from 1840-44.
Dr Alexander C Robertson was minister from 1877-1933 and was the driving force behind the building of the present church and hall.
Rev Archie Beaton was minister from 1935-43. He went on to become President of An Comunn Gaidhealach (The Highland Society, the main body which promotes Gaelic culture)
In 1973, the Church was granted its own Coat of Arms